Inexpensive RS-232 to Fiber Optic Converter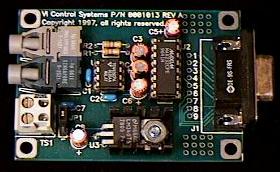 Specs
Description: A simple and inexpensive RS-232 to fiber optic converter.
Channels: TX and RX only. Solder holes are available for each of the nine DB-9 signals if jumpers are required.
Optical:  To be used with 1000-micron plastic fiber optic cable.  Fiber distance should be limited to 40 meters unless special low-loss fiber is used.
Power Req.:  + 5Vdc or higher (on-board regulator) via plug-in terminal strip.
Physical: Approximately 2.0″ X 3.0″.
Cost
P/N 0001-013, $125. Price is dependent on quantity and is subject to change at any time without notification. Note that two are required to complete a fiber optic RS-232 link. Only one is required if interfacing to an Answer Man Junior I/O Board.