---
VI Control Systems is a Factory Authorized Distributor for Group3 Control (previously called Group3 ControlNet).

VI Control Systems's Price List for Group3 Control
---

View entire front page of product line brochure

View entire back page of product line brochure
---
Group3 Control is a fiber optically linked control system using distributed I/O modules called Device Interfaces, or DIs. A DI is positioned at the point to be controlled and the appropriate I/O boards added to it from the list below. Up to three I/O boards in any combination can be used in each DI. Up to 16 DIs can be placed on each fiber optic loop coming from the control computer.
DI Device Interface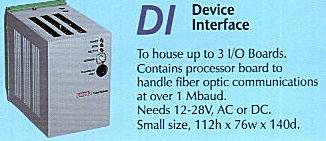 Can house up to 3 I/O Boards. Contains processor board to handle communications. Needs 12-28V, AC or DC. Small size, 112h x 76w x 140d (units are mm).
A Analog/Digital I/O Board
Two 16 bit analog inputs, (see C board). One 14 bit analog output, (see D board). Eight digital I/O channels.
B 24 Digitals I/O Board
24 digital channels, input and output. Outputs: open collector, 180mA, 40V. Inputs: TTL switching level 40V max.
C 8 Analog Inputs I/O Board
8 analog input channels, differential inputs, 16 bit resolution, Range: 50mV to 10V unipolar and bipolar.
D 8 Analog Outputs I/O Board
8 analog outputs of 14 bit resolution. 5V and 10V ranges. Unipolar and bipolar.
E 4 DC Motor Drivers I/O Board
Drives 4 DC motors, Pulse density modulated. Independently programmable speed and acceleration. Motors up to 30V, 1 A.
F Serial Communications I/O Board
2 independent serial ports. Fiber optic transmit/receive. Programmable communication parameters to interface to instrumentation.
G 4 Stepper Motors I/O Board
Generates logic levels to drive 4 stepper motors. Automatic positioning, with independently programmable accelerations and speeds. Eight limit switch inputs. Four 8 bit analog inputs.
H 4 Encoder Channels I/O board
4 independent encoder inputs. Decodes 4 sets of quadrature pulse trains. Increment/decrement at up to 120 kHz.
J 2 Precision Outputs I/O board
2 precision analog outputs of l6 bit resolution. 5V and 10V ranges unipolar and bipolar.
K GPIB/IEEE488 I/O board
Controller, Talker, Listener. To interface to instrumentation and other devices on an IEEE488 bus.
12 Channel External Timing Board
This is a custom board designed by VI Control Systems that is programmed by interfacing to a Group3 Control B board.
8 Channel Sample & Hold and Signal Conditioning Board
This is a custom board designed by VI Control Systems that interfaces to a Group3 Control C board.
CNA - Single DI module ***NEW***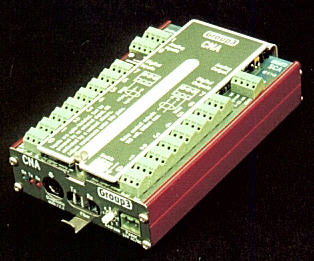 A rugged low-cost replacement for the existing CN1-A. It is a combination digital and analog module offering the follwoing features:
Two Analog Input channels: 16 bit resolution, bipolar, each with differential inputs, +/- 10V (1 lsb = 0.3mV) and +/- 100mV (1 lsb = 3uV) ranges.
One Analog Output channel: 16 bit resolution, output signal selectable as +/- 10V (1 lsb = 0.3mV) or 4 to 20 mA current output (1 lsb = 0.2 uA).
Eight Digital Inputs: Opto-couplers on each channel can be selected to operate in two possible modes. In one mode signal powered channels that are completely independent, minimum of 5 mA. In the other mode contact closure channels share common return potential (which is isolated from the rest of the unit up to 1000V).
Eight Digital Outputs: Small reed relay contacts, switching 100 volt, 500mA maximum, maximum switched power is 10 watts, isolation of contacts from rest of unit is 500 volts.
The CNA module has a PID algorithm embedded in it that can be invoked to allow the module to run closed loop control. The user sends a desired set-point to the module and the module then alters its analog output so as to achieve the desired signal on the feedback sensor.
The CNA module is housed in an aluminium extrusion case, size 30x90x150 millimetres. The included signal conditioning board is mounted on the DI case itself, and provides screw terminals for all wiring, increased transient protection on all I/O, and includes optocouplers on digital inputs and relay contacts on the digital outputs.
Loop Controllers:
Plug in cards for the control computer supporting loops of glass fiber or plastic fiber optic cables with up to 16 DIs on each loop. If many loops are required simply add more controller cards to the computer.
LC1-PC, LC1-PCI
1 loop from a PC (XT Bus or PCI Bus)

LC3-PC, LC3-PCI
3 loops from a PC (XT Bus or PCI Bus)
LC2-VME
2 loops from VME
LC1-STD
1 loop from STD
Signal Conditioners
A new range of signal conditioners has been developed providing increased transient protection. These are available for type A, B, C and D I/O boards. Relay and optocoupler boards are also available for digital channels.
FTR
Fiber optic to RS232 serial data converter.
FOR
Fiber optic repeater. Also converts from glass cable to plastic cable or vice versa.
PS20A12
Power supply for 230V or 110V input, 20V output. DIN rail mount.
Software Packages
Currently supported control software packages:
InTouch by Wonderware Corporation
LabVIEW by National lnstrurnents
ControlView by Allen Bradley
Control3 by Pyramid Technical Consultants
Drivers for other software packages may be added as the market develops. Contact VI Control Systems for further information
---
VI Control Systems has developed LabVIEW driver level software for, and has extensive application experience with, all currently available Group3 Control I/O boards. See Computer Control and Data Acquisition Systems for more information on VI Control Systems's software and hardware capabilities. Here is a driver tree and some help screens from a few individual driver VIs: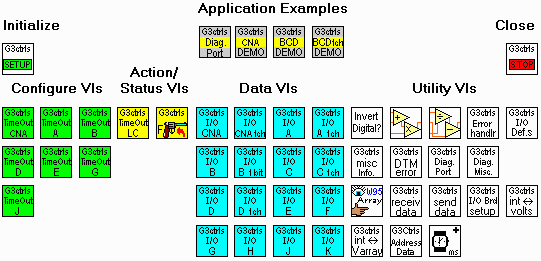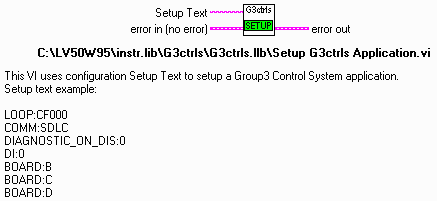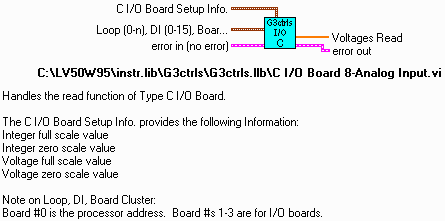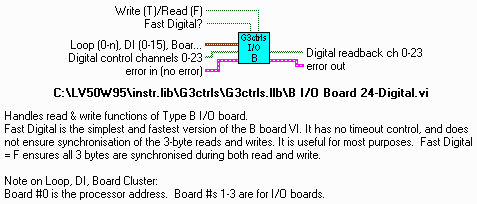 Group3 Control Demo: Click here to see a simple LabVIEW application that uses the Group3 Control drivers.
---
Manufactured by:

Group3 Technology Ltd. 2 Charann Place, Auckland 7 P0 Box 71 111, Rosebank, Auckland, New Zealand Phone +64 9 828-3358 Fax +64 9 828-3357
---
np@vicontrols.com VI Control Systems Ltd., 2173 Deer Trail, Los Alamos, NM 87544 Tel: (505) 662-1461, Fax: (866) 422-2931

Designed and Created by VI Control Systems Ltd.
Copyright © 2005 All Rights Reserved.